Key data
SIMAPRO – The Pro Real Estate Experience
Dates: May 25, 2022. Duques de Pastrana. Mayo 26 and 27: Hall 8. IFEMA MADRID
Character: open to professionals
111 partners and collaborators, 23 of them international
124 speakers and moderators
40 sessions
+ 4.000 professionales
+ 700 participating companies
Partners and collaborators
ACCIONA • ACI-ASOCIACIÓN DE CONSULTORAS INMOBILIARIAS • ACIERTA ASISTENCIA (GRUPO CASER) • ACP MÁLAGA-ASOC. PROVINCIAL CONSTRUCTORES Y PROMOTORES MÁLAGA • ACPZ – ASOCIACIÓN PROVINCIAL DE CONSTRUCTORES PROMOTORES DE ZARAGOZA • ACR • ADS MARKETING • AECC-ASOCIACIÓN ESPAÑOLA DE CENTROS Y PARQUES COMERCIALES • AEDAS HOMES – LEADING PARTNER • AEDIP – ASOC. ESPAÑOLA DE DIRECCIÓN INTEGRADA DE PROYECTO • AEO-ASOCIACIÓN ESPAÑOLA DE OFICINAS • AEV-ASOCIACIÓN ESPAÑOLA DE ANÁLISIS DE VALOR • AGV – ASOCIACIÓN DE GESTORAS DE VIVIENDAS • AILIFEHUMAN • ALIMARKET CONSTRUCCIÓN • ALISEDA EXCENT • ALL GLOBAL PROJECT MANAGEMENT • ALL REALTY INVESTMENTS CONSULTING • AMADEI – ASOCIACIÓN MADRILEÑA DE EMPRESAS INMOBILIARIAS • ANEAR – ASOCIACIÓN ESPAÑOLA DE AGENTES REHABILITADORES • APCE-ASOCIACIÓN DE PROMOTORES CONSTRUCTORES DE ESPAÑA • API • APIMO • APPII- ASSOCIAÇÃO PORTUGUESA DE PROMOTORES E INVESTIDORES IMOBILIÁRIOS C • APROINCO – ASOCIACIÓN DE PROMOTORES INMOBILIARIOS DE A CORUÑA • APROVA – ASOCIACIÓN DE EMPRESAS PROMOTORAS DE VALENCIA • ÁREA URBANA GESTIÓN INMOBILIARIA • ASPRIMA-ASOCIACIÓN DE PROMOTORES INMOBILIARIOS DE MADRID • ASSOCIACIÓ DE PROMOTORS DE CATALUNYA • ASVAL-ASOCIACIÓN DE PROPIETARIOS DE VIVIENDAS EN ALQUILER • AVAIBOOK • AVEON • BACKBONE – BETTER VISUALS. FASTER. • BEANSTOCK • BELBEX • BETTER HOMES & GARDENS REAL ESTATE • BONDSTONE LDA • BRAINSRE • BRESSON REALTY • CASAFARI • CASAVO • CASER SEGUROS • CENTURY 21 • CÍRCULO INMOBILIARIO • COAST TO COAST INTERNATIONAL REALTOR • COCIRCULAR • COLDWELL BANKER • COLLIERS • CONTACTO ATLANTICO ARQUITECTURA • CORCORAN • COSTAR GROUP • DEBOS • DIGLO • DOMO GESTORA DE VIVIENDAS • DOMOBLOCK • EBI-EL BUEN INQUILINO • ECO INTELLIGENT GROWTH • EGO REAL ESTATE • EL INMOBILIARIO MES A MES • ERA REAL ESTATE • EXCEM SOCIMI SIR • FAEC-FEDERACIÓN PROVINCIAL AGRUPACIONES EMPRESARIOS CONSTRUCCIÓN CÁDIZ • FINAER COMPAÑÍA DE GARANTÍAS • FINTECA • FLATSY • FOTOCASA • FOTOCASA PRO • FRAGUA BY ATLAS REAL ESTATE ANALYTICS • FUNCOVI • GEDESIA PROJECT MANAGEMENT, ARQUITECTURA, INGENIERÍA Y URBANISMO • GESBRÓ • GIRAFFE360 • GLOBAL INVESTMENTS • GLOVAL • GOOGLE • GRATO • GRUPO CONSTRUCÍA • GRUPO FOGESA • GRUPO IBOSA • HABITATSOFT • HABITEO • HAPPYWAIT • HOMIII • HOMMING • HOMYHUB • HOUSAGE • HOUSEPHERE.ES • IAD ESPAÑA • IBERIAN.PROPERTY • IDEALISTA • IDEALISTA/DATA • IDEALISTA/TOOLS • IMMOSCOUT24 • IMPULSA PROYECTOS INMOBILIARIOS • INGESCASA • INMOBILIARE • INMOSELF • INVIERTE EN CUENCA • JOINHOME • KRONOS HOMES • KSANET • LIBRA GESTIÓN DE PROYECTOS • LIGHTSHOP • LISTGLOBALLY • LOBO STUDIO • MASTEOS • MEERO • METAVEON • METRIKUS • METROS 2 • MEXTO PROPERTY INVESTMENT • MINISTERIO DE TRANSPORTES, MOVILIDAD Y AGENDA URBANA • MISOFICINAS.ES • MONOMA • NASH21 • NESTER • NIDUS • NODALVIEW • OBSERVATORIO INMOBILIARIO • OKIFY – TODOS TRÁMITES RELACIONADOS CON LA MUDANZA • ORES & BRYAN • PAPERNEST • PICKGEO • PISOS.COM • PLANRADAR • PRECIOSDEVIVIENDA.ES • PRENSA IBÉRICA • PRICEHUBBLE • PRIMEVEST CAPITAL PARTNERS • PRINEX REAL ESTATE SOFTWARE • PROHIPOTECAS • PROINBA-ASOC. EMPRESARIAL PROMOTORES INMOBILIARIOS BALEARES • PROPDATA – REAL ESTATE ANALYTICS • PROPERSTAR • PROPPER • PROVIA-ASOCIACIÓN DE PROMOTORES INMOBILIARIOS DE LA PROVINCIA DE ALICANTE • PRYGESA • QLIP • QOBRIX • QUOTA • REALFUND • REALOGY HOLDINGS CORPORATION • REDILINK • REENTAL • RENT SWITZERLAND • RENTGER • REPORTE INMOBILIARIO • REVISTA CENTROS COMERCIALES • ROBERT WALTERS GROUP • ROOMMATE • SELECTRA • SEPES ENTIDAD ESTATAL DE SUELO • SERPROCOL • SOLVIA • SOTHEBY'S INTERNATIONAL REALTY • SPACETI • ST CONSULTORES • ST IDEA • ST SOCIEDAD DE TASACIÓN • STRATESYS • STREETS • TAAF • THE WORK PASS • THOMÁS DE CARRANZA ABOGADOS • TINSA • TOPBROKERS.IO • TORRES MASCARENHAS • TOSHIBA • TUIO • ULI – URBAN LAND INSTITUTE • UNLATCH • URBANITAE • URBANIZA • URBANO INTERNACIONAL • VIDA IMOBILIÁRIA • VIRTUAL ESTATE • VISUALEO • WIRES-WOMEN IN REAL ESTATE • WOODEA • WORLD PROPERTY BUSINESS CLUB • WSSTECH • XM2 – POR METRO CUADRADO • ZELOK
Other contents
SIMA 2022 (May 26-29) brought together the largest representation of the sector, showing the progress of its participating companies in innovation, sustainability and social responsibility
Commercial presentations of some of the exhibiting companies of PROPTECH EXPO.
SIMA 2022 hosted the 19th edition of the ASPRIMA-SIMA Awards, to which more than 90 applications (72 participating companies) were submitted and whose award ceremony was held at the Duques de Pastrana complex in Madrid on Thursday, May 26 with the assistance of more than 450 people.
Gala Sponsors
Gala Collaborator
Speakers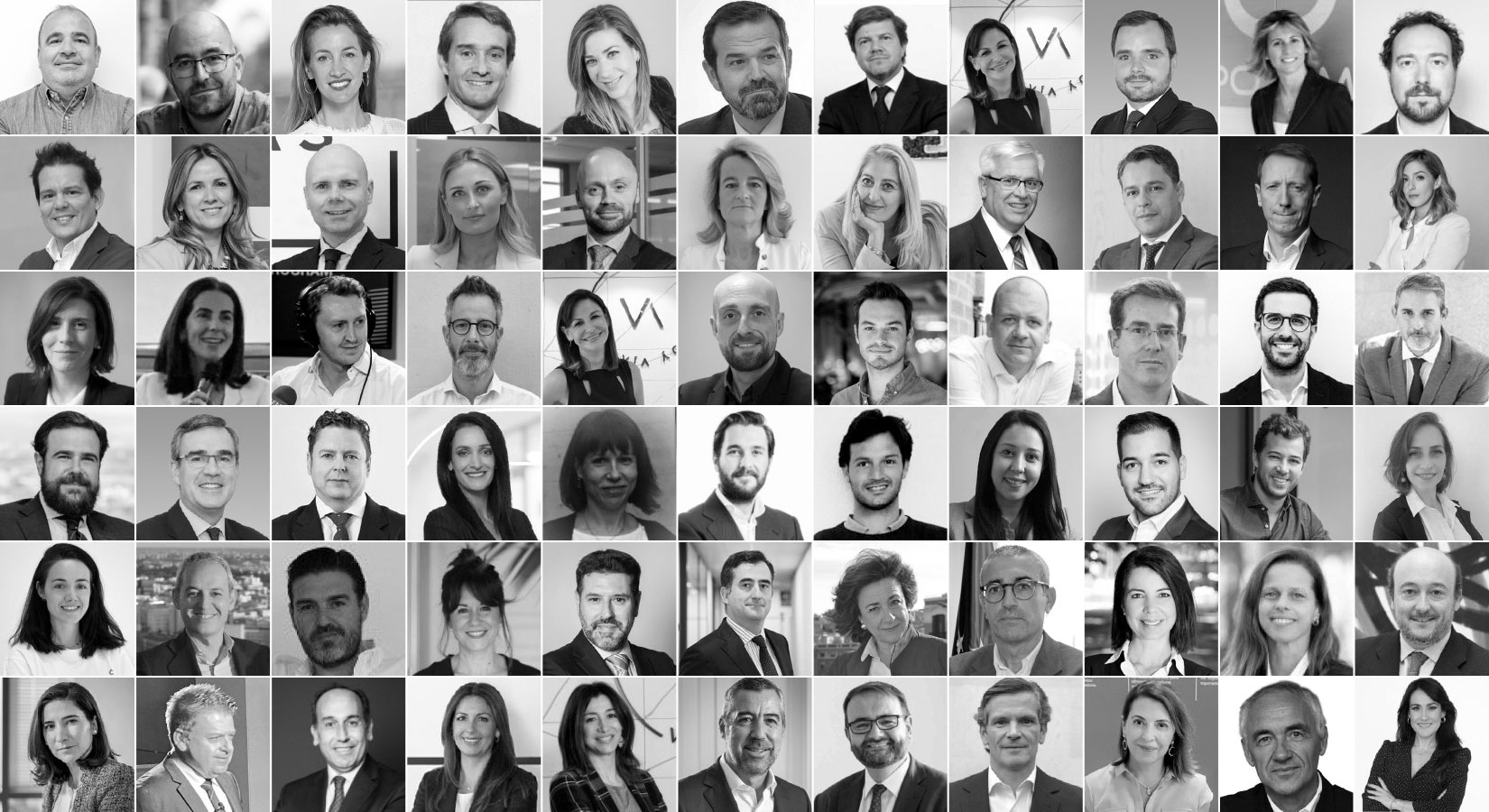 124 speakers and collaborators have collaborated with SIMAPRO, contributing their knowledge and experience, providing various points of view of the current market and trends.
Companies participating in SIMAPRO 2022
37A WALBROOK • A.I. PATAURA • AAB FINANZAS Y GESTIÓN • ABOGADOS CE • ACCI PARTNERS • ACCIONA • ACERTA • ACP LEVEL • ACR • ACTIVITAS • ACTIVUM REAL STATE • ADDIENT • AD-DO MARKETING & COMUNICACIÓN • ADESSO • ADEVINTA SPAIN • ADMENTUM • ADSOLUM • ADVISORY BOARD • AEAT • AECCTI • AEDAS • AEDAS • AELCA • AESVAL LÓGICA DE VALORACIONES • AEV • AGALSA SIERRA DE LA DEMANDA • AGENCIA DE VIVIENDA SOCIAL • AGV • AHORA ASSET MANAGEMENT • AI LIFE HUMAN • AIS • ALBIÑANA & SUAREZ DE LEZO • ALCAÑIZ DE LA GUIA • ALDI • ALIARIA • ALIBUILDING • ALISEDA • ALL GLOBAL PROJECT MANAGEMENT • ALMAR CONSULTING • ALTAMIRA • ALTI ARQUITECTOS • ALTING INMOBILIARIA • ALTTER REAL ESTATE • ALUNI.NET • AMADEI • AMENABAR • ANAI • ANEAR • ANERR • ANTICIPA RE • APARTAMENTOS RD • APARTNERS CONSULTORES INMOBILIARIOS • APCE CATALUÑA • APCE ESPAÑA • APF EVOLUTION • API • APIMO • APM • APPII • APRIM • APROVA • AQUACONTROL • ARADECK • ARCANO PARTNERS • ARCELORMITTAL CONSTRUCTION IBERIA • ARCHITECT RE TECH • AREA REAL ESTATE • AREIZAGA • ARENHOS ADVISORS • ARGIS LIVING • ARNAIZ • ARNOLD INVESTMENTS • AROUND THE SUN UNIPESSOAL LDA • ARQPANORAMICA • ARQUITASA • ARRENTA • ARROW ECS • ARTELIA SPAIN • ARTHKO PROJECT • ARTIFICAL INTELLIGENCE INDESTIA • ARZAL ASESORES INMOBILIARIOS • ASEFA • ASICOM • ASK4 • ASOCIACIÓN DE CONSULTORES INMOBILIARIAS • ASOCIACION ESPAÑOLA DE ANALISIS DE VALOR • ASOCIACIÓN ESPAÑOLA DE DIRECCIÓN INTEGRADA DE PROYECTO • ASOCIACIÓN ESPAÑOLA DE GESTORES PÚBLICOS DE VIVIENDA Y SUELO • ASOCIACION HIPOTECARIA ESPAÑOLA • ASPRIMA • ASTERISCOS PATRIMONIAL • ASVAL • ATEDY • ATIPIK PROPERTIES • ATLAS REAL ESTATE ANALYTICS • ATREVIA • AURQUIRA • AVANGES 2010 • AVANTESPACIA • AVANZA COMUNICACIÓN • AVANZA URBANA • AVINTIA • AXA • AXELEO CAPITAL • AYUNTAMIENTO DE HUETE • AYUNTAMIENTO DE MADRID • AYUNTAMIENTO DE MÓSTOLES • AYUNTAMIENTO DE SISANTE • AYUNTAMIENTO DE TARANCON • AZORA • AZZAM VIVIENDA • B720 ARQUITECTOS • BACKBONE • BADI • BAHIA PRINCIPE • BANC SABADELL • BANCO DE CREDITO SOCIAL COOPERATIVO • BANCO SANTANDER • BANKINTER • BASICO • BAUEN • BBVA • BCAPITAL • BDO ABOGADOS • BE COOL • BECHESTER • BEI CAPITAL • BELBEX • BELVER&CO • BERTZ VIABILIDAD EMPRESARIAL • BIALTO • BIDX1 • BIENES RAICES ESPAÑA COLOMBIA GROUP • BILDIA • BINSWANGER • BLAUVERD CONSTRUCCIÓN DE HABITATS • BLUE OCEAN FINANCE • BNP PARIBAS REAL ESTATE • BONDSTONE • BOSCH • BOUYGUES INMOBILIARIA • BRAINSRE.NEWS • BRESSON • BRESSON REALTY BARCELONA • BRIGANTIA • BRUIMAVIC • BRÚJULA PR • BUENAVISTA MAXI • CAIXA RURAL GALEGA • CAIXABANK • CANO Y ESCARIO ARQUITECTURA • CARTER LANE • CASAFARI • CASAVO • CASER SEGUROS • CASES & LACAMBRA • CATELLA INVESTMENT MANAGEMENT • CATELLA PROPERTY SPAIN • CBRE • CEFOSANIT • CEIM • CENTRO DE INFORMACIÓN ESTADÍSTICA DEL NOTARIADO • CENTURY 21 • CEOE CEPYME CUENCA • CERÁMICAS Y CONSTRUCCIONES ROCA • CERBERUS • CHAPNIK&GIESEN • CHAVSA • CHGG ASOCIADOS INTERBUILDING • CIARE • CIM TAX & LEGAL • CIP ARQUITECTOS • CIRCULO INMOBILIARIO MERIDIANA • CIVILRIA • CLEARWATER INTERNATIONAL • CLIKALIA • CLIVE • CLUSTER EDIFICACIÓN • CMA ASESORÍA LEGAL • CMM CASTILLA-LA MANCHA • CMS • CO CIRCULAR • COAATM • COAM • COAPI DE MADRID • COARSA • COCIRCULAR • COLBERT CORP • COLEGIO DE REGISTRADORES • COLEGIO OFICIAL DE APAREJADORES DE MADRID • COLLIERS • COLO • COLUMBUS ARQUITECTURA/PROPDEKK/ BLOCKCHAIN HABITAT • COMCO • COMISIÓN DE MEDIO AMBIENTE DE LA ASAMBLEA • COMPRO EN ESPAÑA • COMUNIDAD DE MADRID • CONFEDERACION ESPAÑOLA DE ORGANIZACIONES EMPRESARIALES • CONFEDERACIÓN NACIONAL DE LA CONSTRUCCION • CONFIACE INGENIEROS Y ASESORES • CONGRESO DE LOS DIPUTADOS • CONSTRUCCIONES HISPANOGERMANAS • CONSTRUCCIONES SARRION • CONSTRUCCIONES SUKIA • CONSTRUCCIONES Y PROMICIONES RIDRYFER • CONSTRUCTORA TITÁN • CONSULTAN PORTUGUESA • CONSULTORIA GOLDEN SERVICES • CONTACTO ATLANTICO • CONTROLIA • CORE BUSINESS CONSULTING • CORNEX CAPITAL • CORTES DE CASTILLA Y LEÓN • CORTEZA • COSTAR • CP PROMOTORA • CPV ESPAÑA • CUEVAS BRU SERVICIOS INMOBILIARIOS SCP • CULMIA • CXB • DAIKIN • DANOSA • DAS SEGUROS • DASANA • DAZIA • DB CARTERA DE INMUEBLES 1 • DCN • DEBOS • DECANATO DE LOS REGISTRADORES DE MADRID • DELEGACIÓN JUNTA CUENCA • DELOITTE FINANCIAL ADVISORY • DESARROLLOS INMOBILIARIOS PROHABITAT • DEXTER GLOBAL FINANCE • DIGLO • DIMALARA • DIPUTACIÓN PROVINCIAL DE CUENCA • DISINGE • DISTRITO CASTELLANA NORTE • DISTRITO NATURAL – COVIVIENDA ECOLÓGICA • DOMINIKA ANNA MUNIAK • DOMO GESTORA • DOMOBLOCK • DOMUS RESIDENTIAL SERVICES XXI • DOSPLANOS • DOVEVIVO • DRAGADOS • EBI EL BUEN INQUILINO • ECO INTELLIGENCE GROWTH • ECÓNOMO&IURIS CONSULTING • EDIFESA • EDIFICIOS CESPINOSA • EDIFITASA • EDIROC • EDJ REAL ESTATE ASSISTANCE • EFICIA • EGO REAL ESTATE • EGSON • EL CONFIDENCIAL • ELIX • EMBAJADA MALASIA • EMPRESA MUNICIPAL DE LA VIVIENDA DE COSLADA • EMROGA • EMVS • ENDESA MOVILIDAD ELÉCTRICA • ENERTRES • ENGEL & VÖLKERS • ENRIQUE BARDAJÍ Y ASOCIADOS • ENTREABIERTO • ERNST & YOUNG • ESISA • ESTATEGURU OÜ • ESTUDIO DIIR • EUROVAL • EVERGE • EVERSHEDS SUTHERLAND • EXP ESPAÑA • EXTREMADURA AVANTE • FABREGAT PERULLES SALES • FACTORIA GESTION Y CONSULTORIA • FAEC • FELLOW FUNDERS • FIDUCIAM NOMINEES • FILIAS KOOL • FINAER • FINALEX 3000 • FINCAS FORCADELL • FINSA • FINTECA • FIRMUS • FIRST WORKPLACES • FLORIA SPAIN REALE ESTATE INVESTMENT • FMP DESARROLLOS INMOBILIARIOS • FOGESA • FOTOCASA PRO • FOTOCASA • FRAGUA BY ATLAS REAL ESTATE ANALYTICS • FRONTAL XXI • FRUX CAPITAL • FS CAPITAL • FUNCAS • FUNDACIÓN METRÓPOLI • GALOW ARQUITECTURA SALUDABLE • GBCE • GD BROKERS • GDSFIN • GEDESIA • GESBRO VIVIENDAS • GESTILAR • GESTIMED LEVANTE • GESTINBOR • GESVALT • GIACOMINI ESPAÑA • GIBOBS • GILMAR • GIOVANNA OREZZOLI Y ASOCIADOS • GIRAFFE 360 • GLENWELL GROUP • GLOBAL INVESTMENTS • GLOBALCAJA • GLOVAL • GMJA SCP • GO BEST COMUNICACIÓN • GO REAL ESTATE • GÓMEZ-ACEBO & POMBO • GOOGLE • GP CONSULTING RE • GRATO • GRATUM CORP • GREENWARD PARTNERS • GREYSTAR • GRUPO ALMENARA • GRUPO AVANZA • GRUPO AZVI • GRUPO BC • GRUPO CONSTRUCIA • GRUPO CUEVAS & RIVERO • GRUPO FOGESA • GRUPO GIMENO • GRUPO HERCE • GRUPO IBOSA • GRUPO INCOFISA • GRUPO INMOBILIARIO DELTA • GRUPO INMOBILIARIO FERROCARRIL • GRUPO INMOGLACIAR • GRUPO INSUR • GRUPO LAR • GRUPO LOBE • GRUPO PIÑERO • GRUPO PROCOURVAL • GRUPO ROCA • GRUPO TECNITASA • GRUPO URBAS • GRUPO VISIER • GRUPO ZWARK • GUADALHORCE MANAGEMENT • GUINOT PRUNERA • HABITAT INMOBILIARIA • HABITATSOFT • HABITEO • HAPPYWAIT • HATRA ARQUITECTURA Y PROYECTOS • HAVALOOK • HAYA • HER ROMMIES • HERAM • HI GRUPO • HI! REAL ESTATE • HIJES • HILL + KNOWLTON STRATEGIES • HINES • HISPANIA-AM • HOGAN LOVELLS INTERNATIONAL • HOLPPER • HOME STAGING CONCEPT • HOMIII • HOMM EXPERIENCES • HOMMING • HOMYHUB • HOTELIER SERVICES • I DELFOS INGENIEROS E • IAD • I-BAU ARQUITECTOS • IBERIAN PROPERTY • IBERINMO • IBIZA ASESORES INMOBILIARIOS • ICEX • ICONKRETE 2012 • IDEALISTA • IE • IKASA • IKEA • IMPULSA PROYECTOS INMOBILIARIOS • INBISA • INGESCASA • INICIATIVAS INMOBILIARIAS • INIEXSA • INMOBÉRICA DE GESTIÓN • INMOBILIARE • INMOBILIARIA SANPAULAZ • INMOCUATTRO SERVICIOS INMOBILIARIOS • INMODIRECT 1058 • INMOFOCUS • INMOUNO • INMSA • INSPECTIA LOGISTIC • INSTITUTO NACIONAL DE ESTADISTICA • INSUR • INVERSIONES Y SERVICIOS SANTA LUCIA • INVESTFY REAL ESTATE • INVESTLEADING • INVESTMENT THEORCHAD • INVIERTIS • IP INGENIUM • ITV SALVACAÑETE • J"ACHÈTE EN ESPAGNE • JBC28 GESTION INMOBILIARIA • JNMB PROJECT MANAGEMENT • JOBGETHER • JOINHOME • JUNCAIL NAINCO • KAM STRATEGIC LINES • KAMPODOMO • KELLER WILLIAMS • KNAUF • KNIGHT FRANK • KODIT.IO • KRATA • KREAB • KROLL • KRONOS • KRONOS HOMES • KSANET • KUMULA • LACOOOP LAMADREDELASCOOPERATIVAS • LAFARGEHOLCIM • LARKAI • LARTECH • LE APARTMENT PARTNERS • LEAF REAL ESTATE • LEONARDO GONZALEZ SANCHEZ • LIBEEN • LIBRA GESTIÓN DE PROYECTOS • LID BUSINESS MEDIA • LIFE • LIGHTSHOP • LIGNUM TECH • LISTGLOBALLY • LIVING CERAMICS • LLAVE DE ORO • LMRE • LOBOSTUDIO • LOFT SINERGIAS INMOBILIARIAS • LORUM SOFTWARE DEVELOPMENT • LUJAMA • LUSITANAGEST • MABEL • MACQUARIE • MAISA PROMOCIONES • MARCO INFRAESTRUCTURAS Y MEDIO AMBIENTE • MARKETERS • MARTÍN HOUSES • MASTEOS • MAY PROMOCIONES • MED CAPITAL MANAGEMENT • MERIDIANA • MERLIN PROPERTIES • METRIKUS • METROVACESA • MEXTO PORTUGAL • MIC INSURANCE • MICHAEL PAGE • MILLENIUM • MINISTERIO ASUNTOS EXTERIORES • MINISTERIO DE TRANSPORTES, MOVILIDAD Y AGENDA URBANA • MIRANDA BOSCH REAL ESTATE & ART • MOMENTUM REAL ESTATE • MONDIAL RELAY • MONOMA • MORPHESTUDIO • MPC GROUP • MPS BY BC • MR HOME • MUNIENS LEGAL • MUTUA DE PROPIETARIOS • MUTUA MADRILEÑA • MVGM PROPERTY MANAGEMENT SPAIN • MWCC (ASOCIACIÓN MADRID CAPITAL MUNDIAL DE LA CONSTRUCCIÓN, INGENIERÍA Y ARQUITECTURA) • NA2R HOLDING • NASH 21 • NATURGY • NAVES Y PARQUES INDUSTRIALES • NEINOR HOMES • NESTER • NEW CONTROL • NEXTRET • NEXUN • NIDUM HOMES • NIDUS • NODALVIEW • NOQUIMASO • NOU AIRE • NOVACASA • NUCLIO • NUEVOS EDIFICIOS ONLINE • OB GESTION PATRIMONIAL • OBRIX • OBSERVATORIO INMOBILIARIO • OHLA • OKIFY • OLGA GOLDEN • OLIVA NOVA BEACH & GOLF RESORT – CHG • ORES & BRYAN • ORIGEN MULTIGESTIÓN • ORIGEN STUDIO • ORINOQUIA REAL ESTATE • ORTIZ LEON ARQUITECTOS • OSBORNE CLARKE ESPAÑA • OTAREE • OTESA • OURNINE • OXMAN TOWN • PAMMASA • PAPERNEST • PARQUE CENTRO • PARTIDO POPULAR • PECSA • PÉREZ-GUERRAS ARQ E ING • PERSEPOLIS INVESTMENTS 1 SOCIMI • PINCASA • PIRAÑAS ONLINE • PISOS.COM • PLADUR GYPSUM • PLAN RADAR • PLUSVAL • PORCELANOSA • PORTAL DE AMÉRICA • PREMIER ESPAÑA • PRICEHUBBLE • PRIME YIELD • PRIMEVEST • PRINEX • PROEL • PROINDIVISOS LEVANTE • PROMALAR • PROMOCIONES Y GESTIONES DEL TAMBRE • PROMOCIONES LEVANTINO ARAGONESAS • PRONTOPISO • PROPDATA • PROPERTY BUYERS • PROVIA • PROVIAF • PROXIMA REAL ESTATE • PRYCONSA • PWC • Q LIVING • QLIP • QOBRIX • QUONIAM • QUOTA RENT • R.R. DE ACUÑA & ASOCIADOS • RAFAEL DE LA-HOZ • RAUL MARTIN BURGOS • REMAX • REAL ESTATE BUSINESS SCHOOL • REAL INSTITUTO ELCANO • REALFUND • REALIA • REALOGY • REBS • RED GLOVAL ESPAÑA GESTIÓN Y EXPLOTACIÓN DE FRANQUICIAS • REDONDO SORIA ARQUITECTOS • REGISTRO DE PICASSENT • REHABITERM • REHBILITA • RENT • RENTGER • RENTO TECNOLOGÍA DE ALQUILER • RETAIL GLOBAL CONSULTING • RKS ASSET MANAGEMENT • ROBERT WALTERS • ROCA • ROMA PROPIEDADES • ROMAN REPUTATION MATTERS • ROOKIE IN TOWN ACCOMMODATION & SERVICES • ROOM MATE • RR ACUÑA • SAFTI ESPAÑA • SAINT GOBAIN • SALESLAND • SANKAR • SANTANDER • SANTIAGO SUR GALICIA • SAREB • SAVILLS INVESTMENT MANAGEMENT • SELECTRA • SEPES • SEQUOIA DESARROLLOS • SERPROCOL • SERVIHABITAT • SH WALTERS • SHARED ACCESS • SIERRA PORTUGAL • SIGRUN PARTNERS • SIKA • SIMPLIFIKA • SINGULARITY REAL ESTATE • SISTEMAS DE GESTION GLOBAL • SMART POINT • SMART REAL ESTATE • SMARTVATTEN • SOCIEDAD PRIVADA DE ALQUILER • SOLUCEMP • SOLUCIONES ACTUALES GESTIONO ACTIVOS INMOBILIARIOS • SOLUCIONES DOSPLANOS • SOLVENTIS S.G.I.I.C • SOLVIA • SONAE SIERRA • SONNEIL HOMES • SOTOGRANDE • SPAINCLICK • SPRING PROFESSIONAL • ST SOCIEDAD DE TASACIÓN • STAY BY KRONOS • STONEWEG • STRATESYS • STUDIOSPAC SOCIEDAD PROFESIONAL DE ARQUITECTOS • SUBDELEGACION GOBIERNO CUENCA • SUNBLOCK URBAN TOKEN • SUSTAINABLE TOWNS • SWEET IDEAS DE MARQUETING • TAAF • TARGETPROP • TASKEEN • TECENAL INVERSIONES • TECNICA Y PROYECTOS • TECNICONSULTING URBANA • TECNITASA • TEMPOPISOS • TEN BRINKE • TERRITROIO GAMING • TF/LABS • THINK LEGAL • THOMAS DE CARRANZA ABOGADOS • TIKEHAU CAPITAL • TIKO • TINDRA HOMES • TINSA • TKL ABOGADOS • TM GRUPO INMOBILIARIO • TOPBROKERS • TORIBIO ACHAVAL • TORIMBIA SOCIMI • TORRES MASCARENHAS • TR GRUPO INMOBILIARIO • TUIO • TWIN PEAKS CAPITAL • TYPSA • UC3M • UDA • ULI MADRID • UNICAJA • UNION INVESTMENT • UNISAN XXI • UNIVERSIDAD JAUME I • UNIVERSIDAD POLITÉCNICA DE MADRID • UNIVIAL • UNLATCH • UPM • UPONOR • URBAN INPUT • URBANIA ALTERNATIVE INVESTMENTS • URBANISMO Y GESTIÓN DE LEGANÉS • URBANITAE • URBANIZA • URBANTEC REALTY • URBAS • URIA MENENDEZ • UTOPIA DEVELOPMENT • UVE VALORACIONES • VACIERO • VAILLANT GROUP • VALLBONA PROPIEDADES • VALMESA • VALUM • VAQ CAPITAL • VBARE • VENTA DE VIVIENDAS Y EDIFICIOS REHABILITADOS • VENTA LOS MONTES • VERALTIA • VÍA ÁGORA • VÍA CÉLERE • VINDORE • VIRTUAL ESTATE • VISUALEO • VITRUVIO • VIVEME REAL ESTATE MANAGEMENT • VIVIA • VIVIENDEA • VIVIZ COMERCIALIZADORA • VIVO HOGARES SOSTENIBLES • VOHOME • VOZPOPULI • VT-LAB • W CAPITAL • WEB EXPERIENCE • WEB NETWORKS • WECITY.IO • WEST SIDE REAL ESTATE • WHISE • WIRES • WOODEA • WOSS S.A • WSS – CONSULTORIA DE ESPAÇOS • XM2 | POR METRO CUADRADO • YERA SERVICER • YEYEKO LAB • ZAPATA • ZAZUME • ZELOK • ZUBICITIES •
Repercussion in the press
More information
If you wish to obtain more information about the previous edition, contact the commercial department
• Enrique Martín, enrique.martin@gplanner.com, phone: +34 639 115 085
• Eva Oliva, eva.oliva@gplanner.com, phone: +34 696 596 667